It's a busy time in comics at the moment. Blackest Night. Fall Of The Hulks. Siege.
Hit Monkey
.
OK, maybe not that last one so much...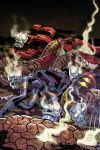 Into the midst of all this comes a six issue miniseries baying for your attention. Doctor Doom has turned his attention to Wakanda, the African nation that is home to the Black Panther and large stocks of the precious metal Vibranium. Within 48 hours, Doom's forces are victorious and the DoomWar is seemingly over.
But the super villain has reckoned on the combined forces of the Uncanny X-Men, the Fantastic Four and two Black Panthers.
The first issue of Doom War is now available in store and you can read a preview
here at IGN
.
While stocks last, Proud Lion is selling DoomWar #1 for just £2.00.